For The Defense has published an article authored by Hill Ward Henderson Shareholder R. Craig Mayfield, "No Excuses – Dive In" in its April issue. In this article Mr. Mayfield states that committee involvement is the best platform for pursuing DRI leadership positions, and for building relationships with fellow members and industry leaders throughout the country.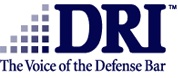 DRI is the international membership organization for lawyers involved in the defense of civil litigation. DRI is committed to enhancing the skills, effectiveness and professionalism of defense lawyers; anticipating and addressing issues germane to defense lawyers and the civil justice system; promoting appreciation of the rolls of the defense lawyer and improving the civil justice system and preserving the civil jury.
Mr. Mayfield's practice primarily involved the defense of product liability and complex mass tort claims. He is the current Chair of the DRI Young Lawyers Committee and serves as the U.S. young lawyer liaison to DRI Europe and on the steering committee for DRI's Products Liability Committee.