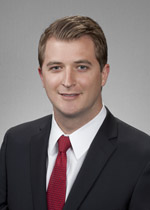 American Bar Association's (ABA) Young Lawyers Practice Series Publication, recently featured an article authored by Hill Ward Henderson Attorney Patrick M. Causey – "Documenting the File." In this article, Mr. Causey discusses the importance of documenting a file stating that it is one of the most common mistakes made by an attorney being sued for malpractice. Mr. Causey explains how proper documentation can save time and resources and allows one the opportunity to improve on the quality of representation of clients.
The American Bar Association's Practice Series is an online resource for new lawyers covering basic training in both substantive and practical aspects of law practice. The 101 and 201 Practice Series is made available by the ABA's Young Lawyers Division.
Mr. Causey is an Associate at Hill Ward Henderson and works in the firm's General Commercial Litigation Group. His practice primarily focuses on general commercial litigation, professional malpractice defense, business tort claims, life, health and disability insurance defense, and insurance coverage litigation. He currently serves as the Vice-Liaison for the Defense Research Institutes Trial Tactics Committee.